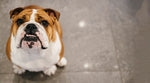 It's What's Inside That Counts - Healthy Dog Treats
Lets face it. Our pups will eat just about anything and love it. If your pup is anything like ours, at some point, they've even munched on poop at least once, and what's worst, seemed to enjoy it. 
When deciding what's a healthy treat that your pup will love though, there's only one thing to remember - it's all in the ingredients. So let's consider the 3 major types of treats and what to look for and what to watch out for!

Meat Treats
A good meat treat will have animal protein, and what's more, it will be specific about the source (beef, chicken, duck, etc.) or an organ (chicken heart, beef liver, etc) . This animal protein should the first ingredient on the list and there should only be a few, if any, other ingredients after it. 
Things to Look for - The source of any animal protein or fat must be named, and meaty treats should contain as much animal protein as possible! It should be the first ingredient on the list. Preservatives, if used, should be natural, such as mixed tocopherols. The package should contain either a best by date and/or a date of manufacture.
Things to Avoid - You should avoid treats with animal by-products or unnamed animal sources ("meat and bone meal", "chicken by-products", or the terrible classic "animal fat"). Treats shouldn't contain artificial, preservatives or colors. And lastly, imported meats should be avoided.
Cookie or Biscuit Treats

Who doesn't love a good cookie? Your dog is no different from this perspective. Cookie or biscuit-style treats (whether crunchy or chewy), are usually made with a grain or carb and then baked. In general with this type of treat especially, the fewer number of ingredients, and the more simple and basic they are, the better.
Things to Look for - The source of any animal protein or fat must be named. All grain, fruit or vegetable ingredients should be lightly processed, if not whole. Chewy biscuits should contain natural ingredients to keep the treat moist, like maple syrup, honey or vegetable glycerin.
A good example of a high-quality biscuit treats are Portland Pet Food dog treats.
Things To Avoid - Low-quality grain by-products should also be avoided; if the label does not simply say the name of a grain or grain flour, it's likely a by-product. Avoid treats containing propylene glycol, an artificial humectant. Treats should contain no artificial colors, flavors, or preservatives.
Miscellaneous Dog Treats
Fruit treats, bully chews, ice cream treats. There's so many other treats beside meat and biscuit treats. The important thing to look for in these other treats is that they contain as few ingredients as possible. These ingredients should be quickly identifiable and as whole/natural as can be.
All of the treats offered at Howl & Meow have been reviewed, researched, and specifically selected because of their higher than normal quality. This makes it easy for you to choose any treat and having the peace of mind that its going to be good for your pet. Happy treating!